April 3, 2017 9:03 pm
The exciting Xfinity Watchathon kicks off TODAY, April 3rd, providing Xfinity TV customers with a week long all-access pass! All Xfinity TV customers will have access to thousands of the best shows and movies from broadcast, cable and premium networks!
Here's some quick information about the watchathon:
·  You will be able to watch these programs on your TV and the Stream App.
·  If you visit xfinity.com/Watchathon, you can get fantastic ideas on hosting your own show-themed Watchathon party or play fun Watchathon games.
·  Watchathon is April 3rd through April 9th.
·  Most exciting, Netflix is joining the party this year!
**Customers who currently are not Netflix customers will have access to Netflix's entire catalog such House of Cards and Orange is the New Black**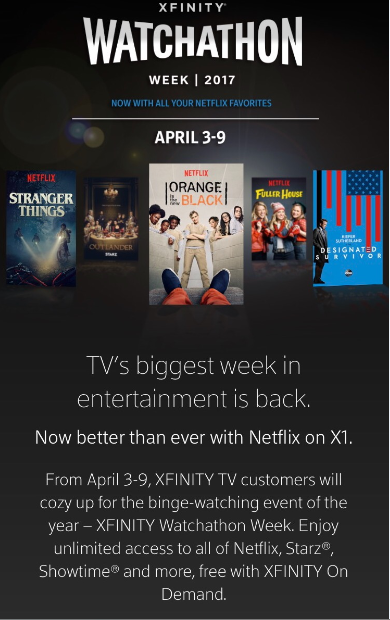 Category: Life at Pavona Apartments Tags: comcast, freemovies, freenetflix, netflix, watchathon